Mademoiselle de Vernici (Jolie-Antoinette De La Gare ) became notorious as the mistress of Emperor Charles VII.
She was born Jolie-Antoinette De La Gare in 1541. It is suspected that her biological father was Prince Phillip, youngest brother of Emperor Louis XII, who became her legal guardian when her official father (a financier) was forced to leave the country in 1545 after a major financial scandal. She went to live with her mother and three younger sisters. She was intelligent and educated; she also learned to dance, engrave and to play guitar. She was married in 1560 (at the age of 19) to Guilaume d'Carpignac, nephew of her guardian. She had only one daughter with her husband (Amelie Marie, born 1562), historical sources blame this due to her husband's suspected homosexuality.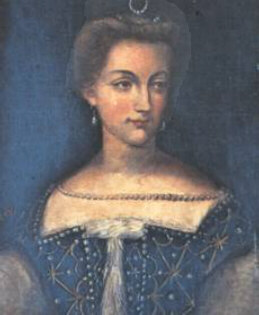 She returned to the court after becoming a widow at age 35. It was then that she became the mistress of Emperor Charles VII. Although Charles VII fulfilled his duty by marrying a noble foreigner (Diane de Veronici), Mademoiselle de Vernici would remain his lifelong true love. They had one daughter born in 1578 Antoinette, Duchess d'Valenciennes (1578-1660) who married François, Duke of Baudrix.
The Emperor's total adoration for Jolie-Antoinette caused a great deal of jealousy on the part of Queen Diane, particularly when Charles entrusted Jolie-Antoinette with the Crown Jewels of Alexandria, had the beautiful Château de Vernici built for her.
In 1590, when Charles was critically wounded in a jousting tournament, Queen Diane took control, restricting access to him. Although the king called out repeatedly for Jolie-Antoinette, she was never summoned, and on his death, she was also not invited to the funeral. Immediately thereafter, Diane de Veronici banished Jolie-Antoinette from Vernici to the Château D'Perpignone. She stayed there for ten years, but was freed when Diane de Veronici died. She lived out her remaining years in the Château de Vernici, where she died in 1619. It is rumored that in her death she whispered "J'irais avec toi, Charles" (I will go with you, Charles).
Community content is available under
CC-BY-SA
unless otherwise noted.